This article was originally published in Village Living Magazine
While I am a big proponent of learning how to cook simple and healthy gluten-free meals at home, there are always times where dining out is a welcome indulgence. Over the years, I've dined at various places around the city that have either fully gluten-free menus, or gluten-free selections. Here are my top 5 picks in Toronto:
Live Food Bar
Dupont and Spadina
www.livefoodbar.com
Gourmet, gluten-free and sugar-free vegan dishes promise to "invigorate and cleanse your body, mind and soul" at the Live Food Bar. The restaurant is open for lunch, dinner and weekend brunch with a wide menu selection that includes a walnut sweet potato crusted pizza, black bean burrito, and delicious cornmeal quinoa "hushpuppies" fritters. Deliciously fresh organic juices are also created for specific benefits including the Candida Buster and an aptly named Liquid Plumber! The restaurant also offers a full selection of cocktails, wines and even gluten-free ale.
Rawlicious
Various locations including Bloor West and Yorkville
www.rawlicious.ca
With a surprisingly inventive organic raw vegan menu, even meat lovers can find something to tantalize their tastebuds. The restaurant is warm, welcoming and unpretentious with a full selection imaginative creations including a ChocoMinty smoothie, Pasta Bolognese (with zucchini "spaggetti") and a cashew based cheesecake. While "raw vegan" can often invoke thoughts of "bland" – I assure you that the food here is packed full of both bold and subtle flavour. Even if you've never even thought of being vegan or vegetarian, I urge you to try this restaurant at least once!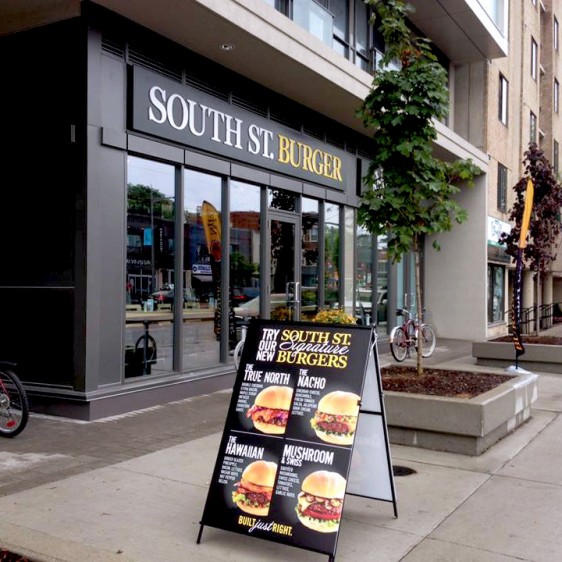 South St. Burger Co.
Various locations including Yonge/Eglington, Bayview Village and Shops at Don Mills
www.southstreetburger.com
With the burger craze in full force in Toronto, there's no reason you have to miss out! South St. Burger is one of those rare restaurants out there whose food actually tastes like real, homemade food. If you're tired of that engineered, fatty and salty flavour at most burger joints, South St. is just the place to go. Their meat is prepared with no additives, preservatives, filler or spice packs, and they use fresh, wholesome ingredients which you choose as they grill and assemble your burger right in front of you. When you ask for a gluten-free burger, the staff takes care to change their gloves, use clean paper and a separate toaster for your gluten-free bun. And of course, nothing goes better with a gluten-free burger than their gluten-free New York fries!
Il Fornello
Various locations including the Beach, Danforth, Bayview Village and the Entertainment District
www.ilfornello.com
When I first started a gluten-free diet, I basically didn't set foot in an Italian restaurant for about 5 years! Thankfully some chains, including Il Fornello, have since filled this void and offer various alternative menu choices including gluten-free pastas and gluten-free pizzas. Il Fornello is a great restaurant to visit for a night out with your non-Celiac friends with chains in almost every corner of the city.
West Hill Wine Bar
Kingston and Lawrence
www.westhillwinebar.com
Coming from Scarborough, I would be remiss if I didn't mention one of my new discoveries, a fine dining restaurant called the West Hill Wine Bar. Owned and operated by past Top Chef Canada contestant, Christopher Kanka, the restaurant is still not widely known, but the food is truly wonderful. Chef Kanka serves fresh, local and sustainable foods, which means that from month to month, his menu is continuously changing to take advantage of the foods that are in season (which is really a wonderful to be eating!) Some of the delectable dishes include Ontario farm raised venison carpaccio, a honey and lavender glazed lamb, seared scallops with a puree trio of white apple, butternut squash and watercress. If you can call a day ahead, the chef will even make you a fresh gluten-free pizza crust – the only place I know of that will do this!